Disc centrifuge
Gain the advantage of a complete, high-resolution particle size analysis system when measuring multimodal size distribution.
The CPS disc centrifuge separates particles by size using centrifugal sedimentation in a liquid medium. The sedimentation is stabilized by a slight density gradient within the liquid.
The particles sediment through a density gradient inside a rotating disc penetrated by a light source. As they move towards the outer edge of the disc, they pass through the light source. The voltage drops as it is absorbed by the particles. This process is continuously recorded and converted by the operating software into the particle size distribution.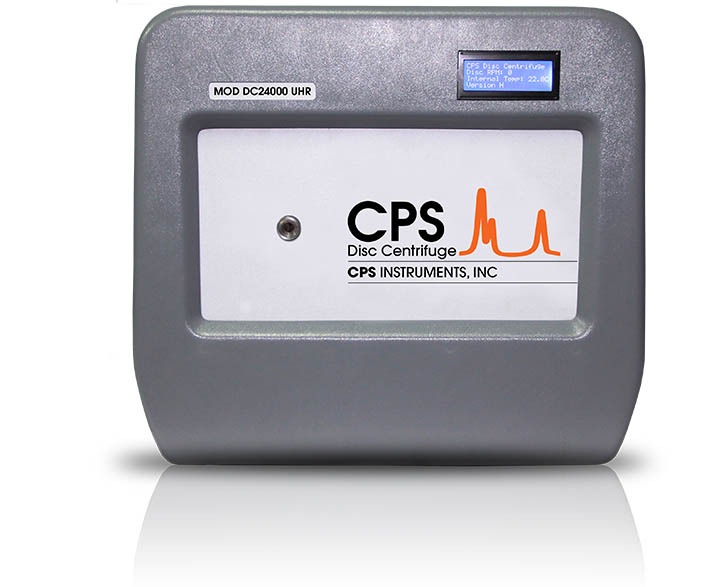 Features
Speed
Processes fixed speed analyses 3 to 4 times faster than any other centrifuge-based instrument on the market.
Detector and electronics operate with an effective response time of ~0.1 second compared to ~1 to 4 seconds for competitors.
For a majority of applications, analysis times are in the range of 3 to 15 minutes/sample.
Resolution
Completely separates narrow peaks that differ by as little as 3%.
Partially separates narrow peaks that differ by as as little as 2%.
Results contain virtually no distortion from the instrument.
No other particle sizing instrument can match the CPS Instruments disc centrifuge in high resolution performance
Accuracy
All analyses are run against a known calibration standard
Typical precision of reported sizes with external standard is ± 0.5% (95% confidence)
Typical precision of reported sizes with internal standard is better than ± 0.25%
Replicate runs produce virtually duplicate results in all cases
Nanoscale particle analysis in 4 steps
CPS Instruments' disc centrifuge isn't merely the fastest and most accurate high resolution particle analyzer on the market. Its intuitive software, graphical interface, and thoughtful design make it one of the easiest to operate as well.
01. Initial Consultation
During your initial consultation, a specialist from CPS Instruments gathers information about your operation and specific particle size measurement needs.
02. On-site Demo
Once you're confident of the CPS Instruments advantage, an on-site demo can be scheduled so that you can experience our state-of-the-art disc centrifuge first-hand.
03. Sample Analysis
To demonstrate the superior value of our disc centrifuge, we perform a sample analysis, delivering the industry's highest resolution results for your review.
04. Installation Training
Your equipment is shipped, and a knowledgeable consultant ensures proper installation and functioning while providing a day-long training on the technology.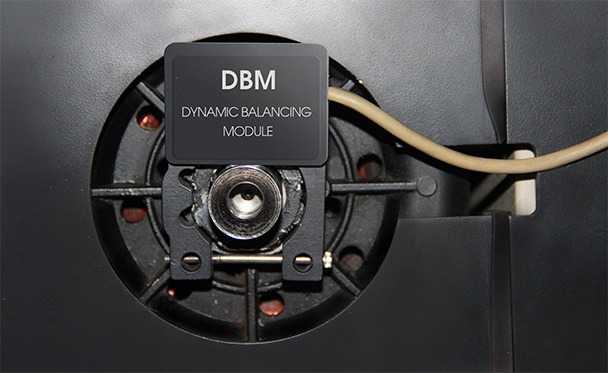 Analyze broad distributions faster
Ramped speed analyses are twenty times faster than fixed speed, but historically, samples with broad distributions posed a challenge to speed ramping.
CPS Instruments' disc centrifuge can be equipped with an ingenious disc that makes speed ramping possible without disrupting density gradient. Speed can be increased during analysis from a low of 2000 RPM to a high of 24,000 RPM, increasing the practical dynamic range from ~70 to ~1,000.
Sample
Polystyrene Polymer Spheres
(20 microns to 0.075 micron)
Size range capability
The size range capability of CPS Instruments' disc centrifuge is dependent on the following factors.
The size range capability of CPS Instruments' disc centrifuge is dependent on the following factors.
Particle density impacts practical measurement range.
Very dense particles have a smaller measurement range. For example, a particle that is six times denser than water would have a range of ~10 microns to under 0.005 micron.
Low density particles have a larger range of maximum and minimum sizes. A sample from from 0.85 g/cc to 1.10 g/cc would have a range of ~10 microns to under 0.005 micron.
Disc Centrifuge speed impacts practical dynamic range.
Using fixed centrifuge speed, the ratio of largest to smallest sizes in a single analysis is about 70. If the largest particle to be measured is 3 microns, particles as small as 0.02 micron can normally be measured in a single analysis of less than 1 hour.
Using ramping of speed during the analysis, the practical dynamic range is up to 1000. If the largest particle to be measured is 10 microns, particles less than 0.02 micron can normally be measured in a single run.
| Model | DC12000 | DC18000 | DC24000UHR |
| --- | --- | --- | --- |
| Maximum speed | 12,000 RPM | 18,000 RPM | 24,000 RPM |
| Minimum particle size | Larger | Smaller | Smallest |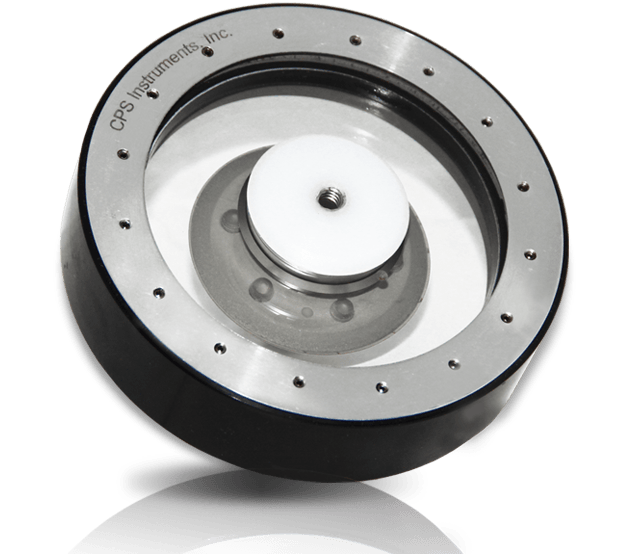 Overcome the limitations of low density samples
In the past, low density samples were difficult or, in some cases, impossible to analyze. CPS Instruments' patented disc design resolves
Equip your centrifuge with our groundbreaking disc, designed for low density samples. Samples are deposited at the bottom of the spinning centrifuge chamber and sediment upward toward the fluid surface. They pass through the light source just as a normal analysis would, with one notable exception. The particles sediment from the outer edge of the disc to the center to facilitate low density samples.
Automatic gradient builder
Avoid human error and achieve rapid, reliable measurement accuracy with CPS Instruments' automatic gradient builder.
Building a density gradient by hand is prone to human error. The CPS Instruments' automatic gradient builder eliminates the risk while accelerating the results. It can be calibrated for use with both water and non-aqueous liquid density gradients, depending on your needs.
To use the auto gradient, simply select the total volume of your density gradient and turn a knob. The auto gradient builds the density gradient to your specifications, filling the disc chamber rapidly and reliably.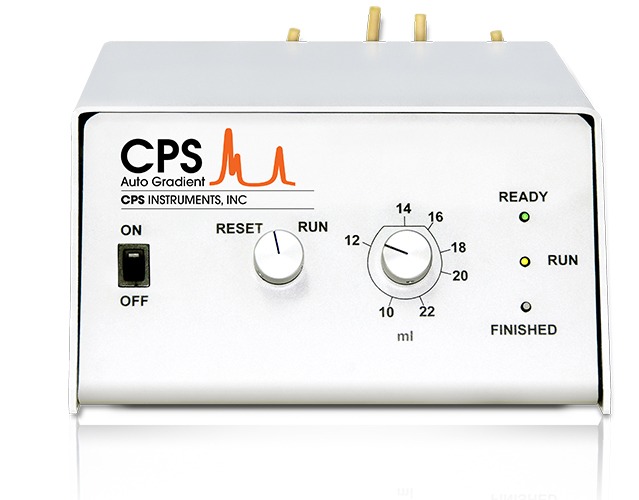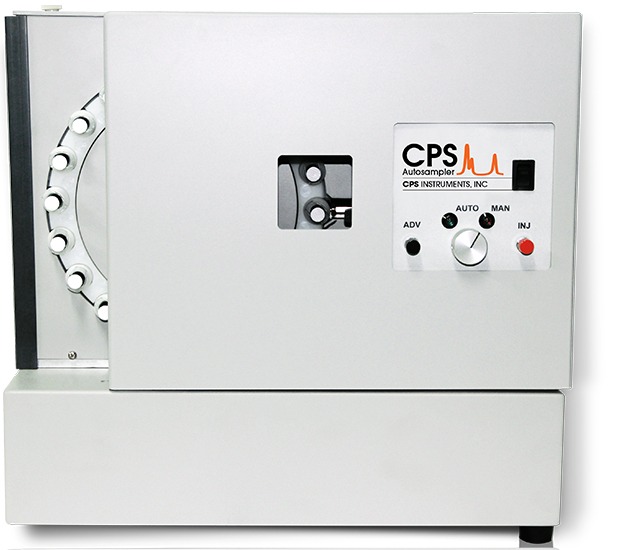 Autosampler
Optimize your operational efficiency with CPS Instruments' autosampler.
The autosampler carousel hooks onto the front of your disc centrifuge and holds up to 20 samples and calibration standards. Our state-of-the-art operating software enables the autosampler to make automatic injections for unattended operation, greatly improving speed and efficiency during analysis.
Request for a call back
Would you like to take a closer look at what CPS Instruments can offer your operation? Schedule a call with one of our consultants today.